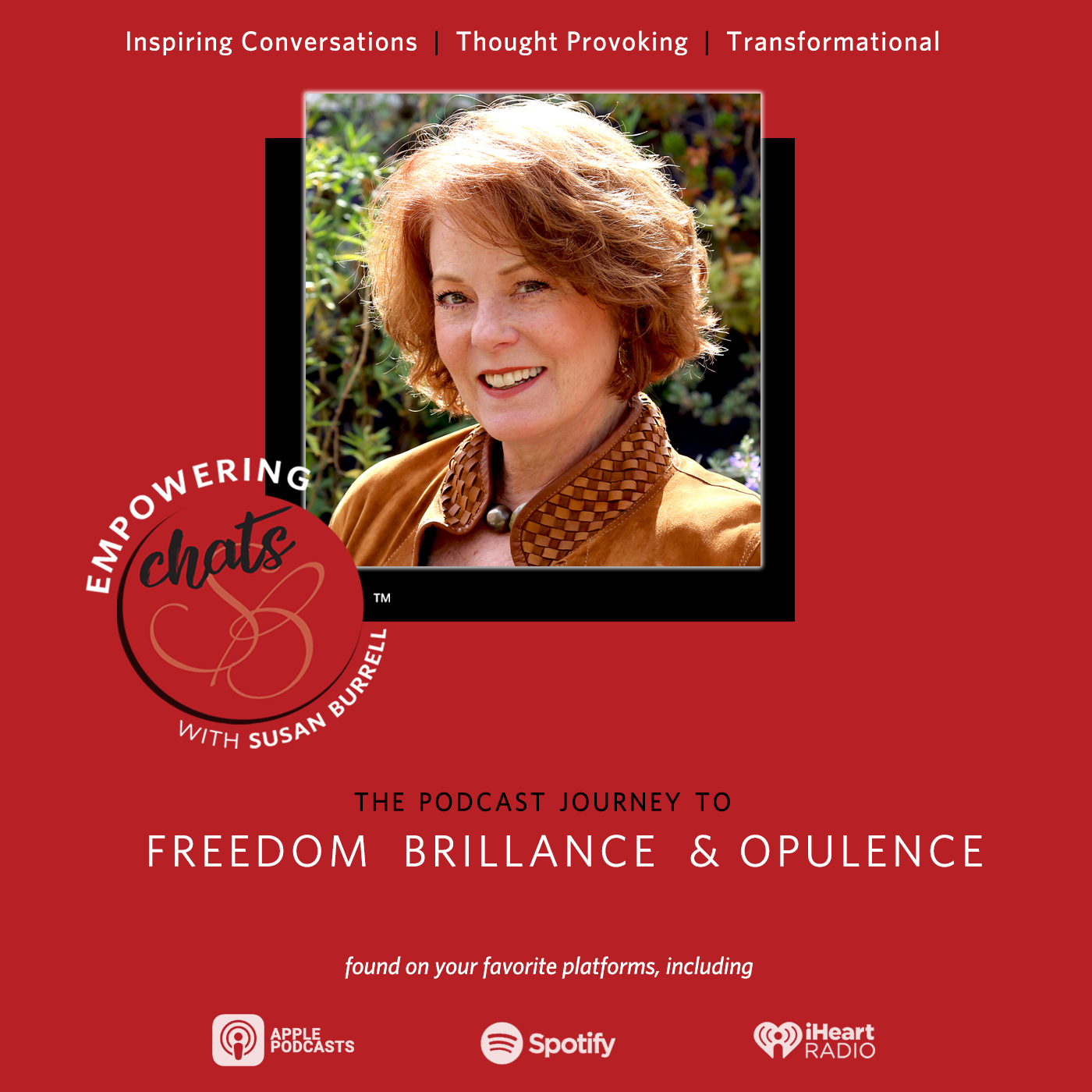 Join Susan and gather some empowering life skills to find your inner freedom, radiate your personal brilliance and live a rich and opulent life. Susan helps strong, capable women who have pockets of self doubt, access their inner wisdom and clarify their Truths. Susan's personal journey of removing energetic blocks within herself, tearing down barriers to personal success and happiness and building an inner foundation of love and courage, informs every conversation.Having come from a background in television and broadcast radio, Susan brings thought provoking guests to her show, asking the question of "How do you live an empowered life filled with freedom and happiness?" The conversations are always rich, peppered with guided meditations, mantras and the how-tos of living a mindful life. To learn more about Susan check out her website: SusanBurrell.com
Episodes
Saturday May 06, 2023
Saturday May 06, 2023
Ep. #228 - Tap into The Playful Side of Life - An Interview with Inspirational Teacher and Author, Jim Dreaver
This episode of Empowering Chats features an interview I did in July of 2014 when I hosted my radio show with Inspirational Teacher and Author, Jim Dreaver. Much of what we talked about still holds true, even today.
Jim Dreaver is the author of, End Your Story, Begin Your Life.
He is originally from New Zealand and moved to California in the mid-70s to attend chiropractic medical school. During his last year of study he began to experience health issues. His health became so compromised that he began to fear death and he could not sleep. What began as overwhelming fear soon turned to enlightenment as he began his spiritual quest.
With the help of meditation and books by spiritual leaders he began his healing process. He settled in California and opened his chiropractic practice.
According to Jim we are storytelling people – but we are not our stories – we are constant and pure consciousness.
In this interview we tackled the questions of how to awaken and open up to life, and how to find the playfulness and joy in living.
Jim feels that many times it is the deep suffering that aids people to "wake up" and take notice of their lives. And being on the path of awakening is really about being tuned into the whispers. Those whispers may accompany you on your life path and are there to alert you to your story and to perhaps even to that which you need to let go of, or move away from. This could be the beginning of your awakening. It's different for everybody and yet the overall theme is the same for everyone.
And ultimately is it about accepting the ebb and flow of life and moving with it rather than against it.  It's about finding the playfulness and allowing life to envelope you in all is beautiful glory, accepting the good and the not so good.
For more on Jim Weaver please visit: JimDreaver.com
To learn more about his book, End Your Story, Begin Your Life visit: JimDreaver.com/index.php/books
To learn more about how I show up in the world please visit: SusanBurrell.com