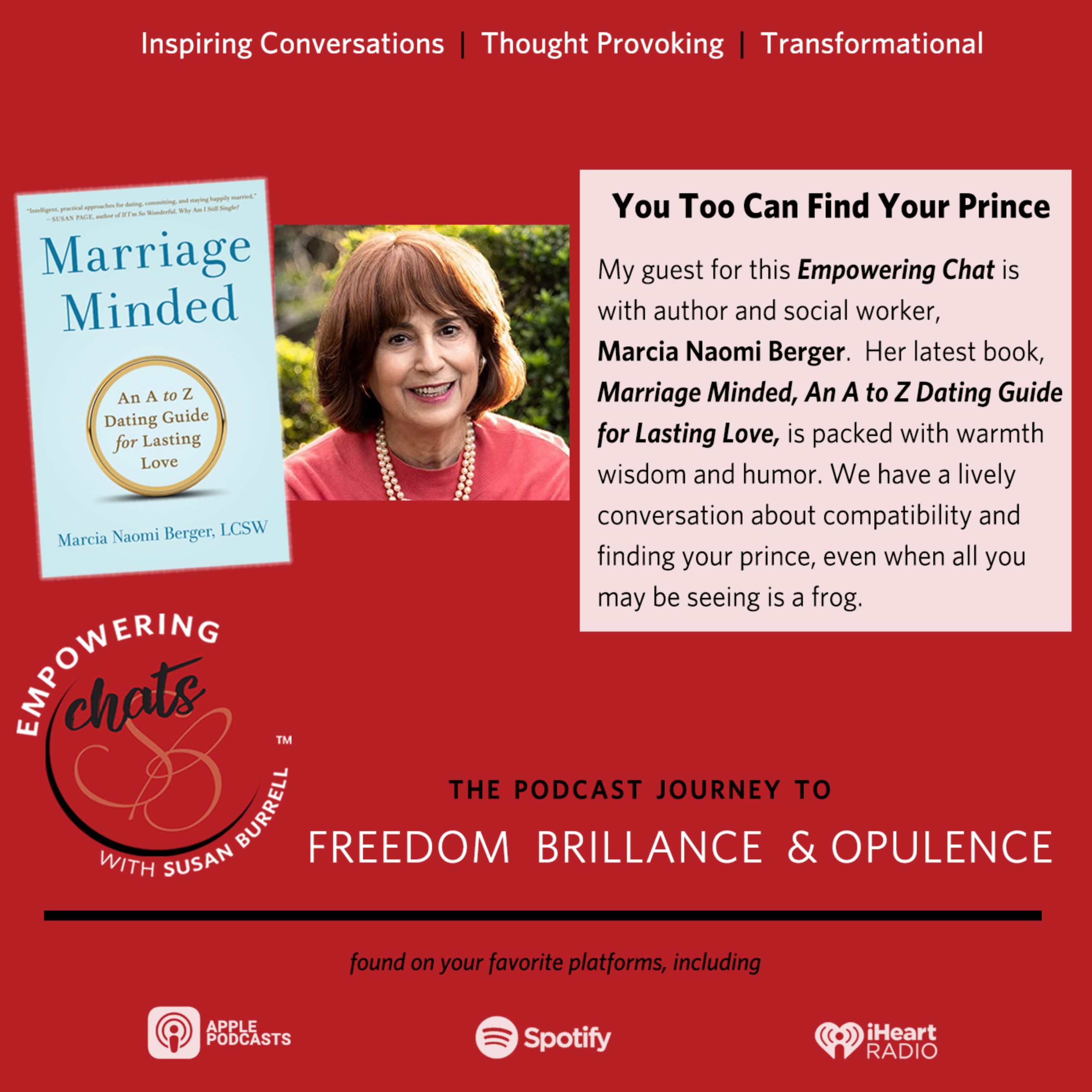 Ep #180 - You Too Can Find Your Prince – An Interview with Author and Social Worker, Marcia Naomi Berger.
In this episode of Empowering Chats I have a lively conversation with Naomi Berger about overcoming the obstacles of dating in order to find your path to marriage. Her latest book, entitled, Marriage Minded, An A to Z Dating Guide for Lasting Love is an easy read. It is set up so that you can read it cover to cover or open to the section that calls to you.
We chat about how times have changed and how going to college in the 50s and early 60s was seen as a path to finding your future husband. Or as Naomi shared, many in her circle would jokingly say they were working toward their MRS degree. Under M in her A to Z guide Naomi's book talks about the importance of having a mentor or model to express how relationships can work well. That particular section caught my attention and as Naomi stated, her book is made to be read as a guide either cover to cover or in sections.
Naomi's book also feels like an A to Z guide in getting to know yourself and finding self-love. It helps you to build your inner foundation of self-love so that you can then naturally radiate out to the world that love and that light you carry – which can then attract more love toward you and translate to a lasting love in a committed relationship – whatever that may look like for each individual.
For more on Marcia Naomi Berger visit her website at: MarciaNaomiBerger.com
To purchase her book, Marriage Minded, An A to Z Dating Guide for Lasting Love visit: www.barnesandnoble.com/w/marriage-minded-marcia-naomi-berger/1138488951
To learn more about how I show up in the world I invite you to visit my website at: SusanBurrell.com