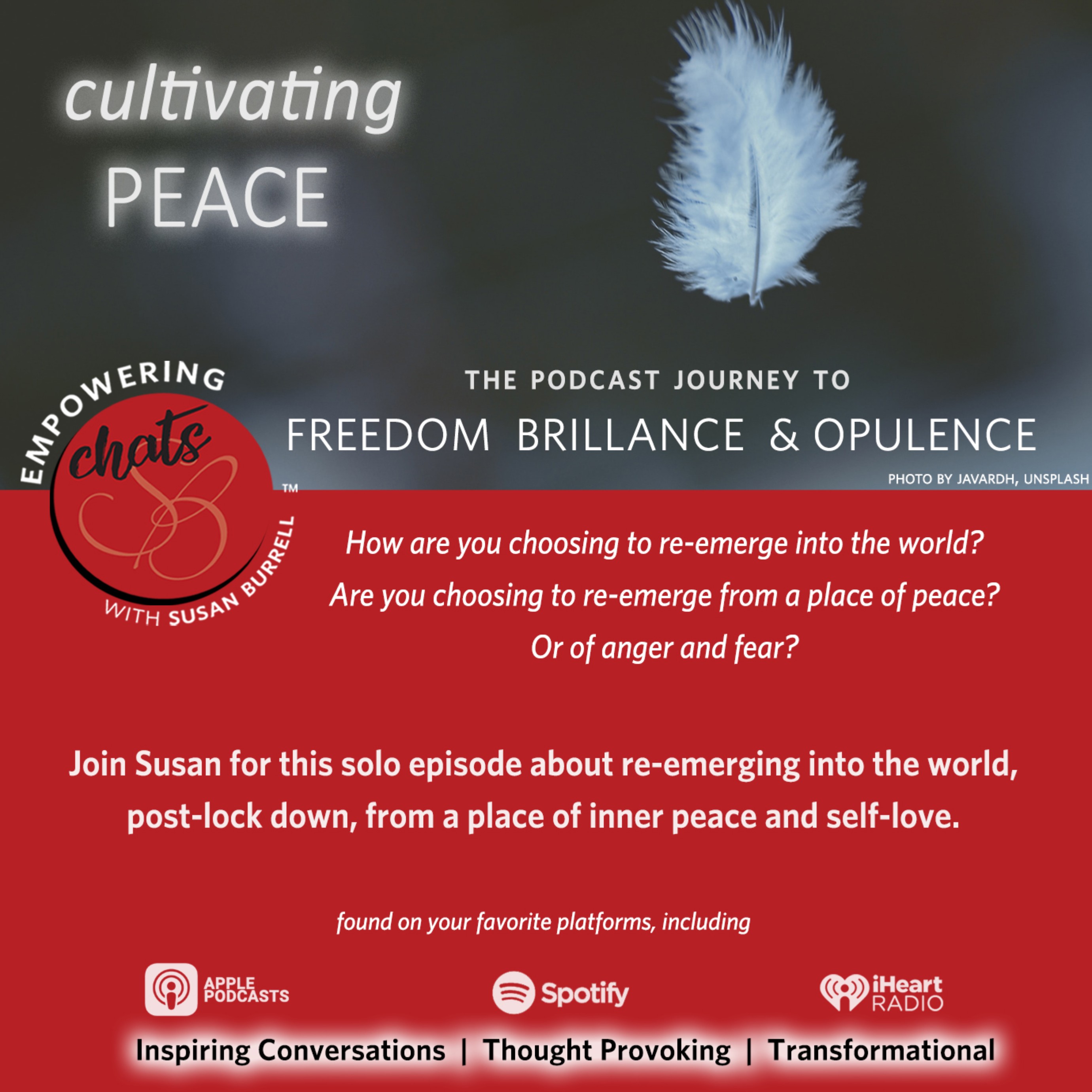 Ep #179 - Cultivating Peace - a solo show with the host of Empowering Chats, Susan Burrell
This episode is the first show of April, 2022 and the focus is on self-love and peace.
I start this episode by asking some powerful questions about how we chose to show up in the world, post lockdown. How are you choosing to re-emerge in the world? Into your life? Are you choosing to emerge from a place of peace or a place of anger and fear?
I encourage you to focus on Peace. And begin with yourself, with your inner peace – and then when you have grasped that I challenge you to extend that peace outward to your community and ultimately to the world.
We already have the seed of peace within us – we just need to remember to focus on that peace in order to grow and materialize that peace. I think it's also important to understand when this focus becomes intense, stuff may show up that looks nothing like peace. And that's okay too, because this process can be like a detox. Sometimes it takes facing those non-peaceful moments or triggers in order to gain the actual peace you seek.
In this episode I invite you to put your mindfulness on peace. On self-love. This practice can be contagious. The more peaceful we are, the more it spreads to those we touch and to those surrounding us.
My goal is to love beyond measure. To love and live in peace, despite the reel of ugliness that is playing out in front of me. I choose to Love anyway. In doing that I remind myself – and you my listeners – to remember to be a presence of light and peace for the world. Peace resides within each of us – so remember to give to yourself and others the gift of peace wrapped in love.
To learn more about the work I do I invite you to visit my website: SusanBurrell.com
For those of you who are interested in the words of Poet, John O'Donohue I have included below the words to his poem which I read at the end of this episode:
"For Peace" by John O'Donohue
As the fever of day calms towards twilight
May all that is strained in us come to ease
We pray for all who suffered violence today,
May an unexpected serenity surprise them.
May those who risk their lives each day for peace,
May their hearts glimpse providence at the heart of history.
That those who make riches from violence and war
Might hear in their dreams the cries of the lost.
That we might see through our fear of each other
A new vision to hear our fatal attraction to aggression.
That those who enjoy the privilege of peace
Might not forget their tormented brothers and sisters.
That the wolf might lie down with the lamb,
That our swords be beaten into ploughshares
And no hurt or harm be done
Anywhere along the holy mountain.
© John O'Donohue