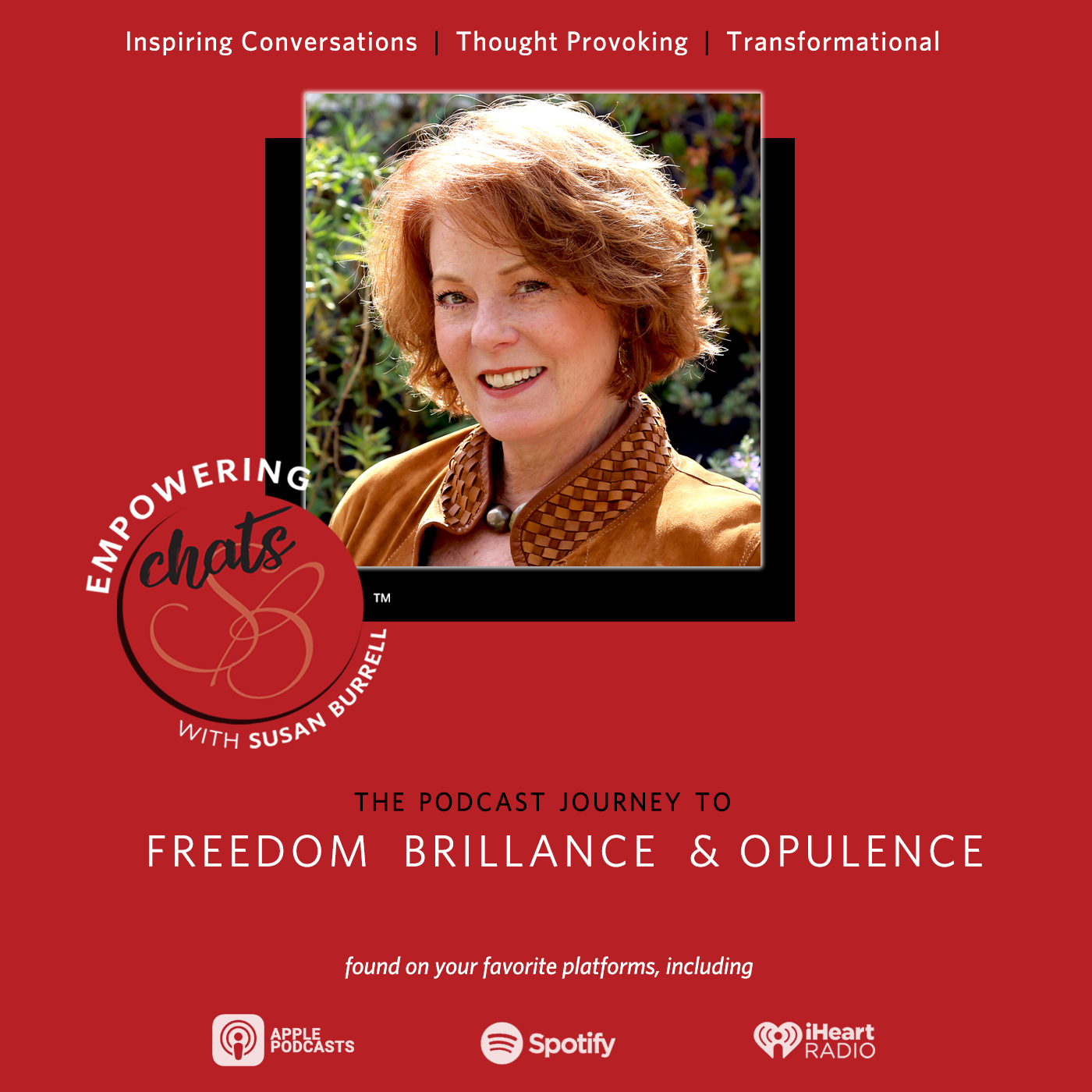 Join Susan and gather some empowering life skills to find your inner freedom, radiate your personal brilliance and live a rich and opulent life. Susan helps strong, capable women who have pockets of self doubt, access their inner wisdom and clarify their Truths. Susan's personal journey of removing energetic blocks within herself, tearing down barriers to personal success and happiness and building an inner foundation of love and courage, informs every conversation.Having come from a background in television and broadcast radio, Susan brings thought provoking guests to her show, asking the question of "How do you live an empowered life filled with freedom and happiness?" The conversations are always rich, peppered with guided meditations, mantras and the how-tos of living a mindful life. To learn more about Susan check out her website: SusanBurrell.com
Episodes
Thursday Jan 12, 2023
Thursday Jan 12, 2023
Ep #212 - BE Expansive! A Solo Show with Susan Burrell.
Here we are in 2023. I've had a slow start to this year and I am happy to finally be emerging into 2023. When I was a kid 2023, seemed so far in the future and it felt very "futuristic" – I always wondered if "the future" would play out as it did in the animated series, The Jetsons – okay so now I am dating myself. Or how about Star Trek? How many of you remember Star Trek?
We are now in the midst of shifts and transitional changes, globally and personally. Last year the theme for Empowering Chats with Susan Burrell was "RE-Emergence." And I remember thinking. Isn't that great? As we come out of the pandemic – how are we going to reemerge? How are we going to re-establish ourselves and reemerge?
And now looking back I realize that for me 2022 was about taking a deeper dive. One I had to take before I could fully reemerge. I first had to do some more internal investigating – which entailed the letting go of things and people that had harmed me throughout my lifetime. 2022 was more of a getting to know myself better.
Getting to know Susan. Susan getting to know Susan. Susan getting to know and accept her inner child. Susan getting to know and release residual anger from her divorce. Susan getting to let go of her son as he entered into marriage to an amazing woman who I adore. And thank goodness she adores me, too, as she is my assistant Bianca. And the wedding was filled with joy and loving happiness.
And I realized that 2022 was really about me learning how to be myself again – in a new way – and learning how to let go and let things happen the way they are supposed to. And learning what is my business and what is not my business.
My actual reemergence happened at the wedding of my son to Bianca in October of 2022.
And so, as I thought of my theme for 2023 the word / phrase that dropped in for me was BE Expansive. The idea of expansive pushes beyond reemergence and opens up your heart and your mind to experiences that will expand you from the inside out. Immersing yourself in all things beautiful.
We, as Humanity, have been called into these collective experiences. There is a learning curve here and I feel we are being asked to open our hearts to these experiences and rise above all of it so that humanity can move beyond this space and WE can become better as a human race.
Only then can we truly nurture ourselves and connect to Mother Earth and connect heart to heart to each other in a loving, kind and compassionate way.
So, BE Expansive this year. Explore more of who you are. Be curious and take chances.
I invite you to explore ways you can expand your life in 2023.
If you wish to start a meditation practice or learn more about what it means to dive deep into your inner landscape then please visit my website: SusanBurrell.com
I also invite you to experience my guided meditations at Insight Timer: InsightTimer.com/SusanBurrell
My videos on YouTube: youtube.com/@liveyourempoweredlife9518
My Facebook Page: facebook.com/susanburrellpage
Instagram: instagram.com/liveyourempoweredlife
Twitter:twitter.com/LYILSusan
Linked-In: linkedin.com/in/susanburrell
All of the above links can also be directly accessed through my website: susanburrell.com