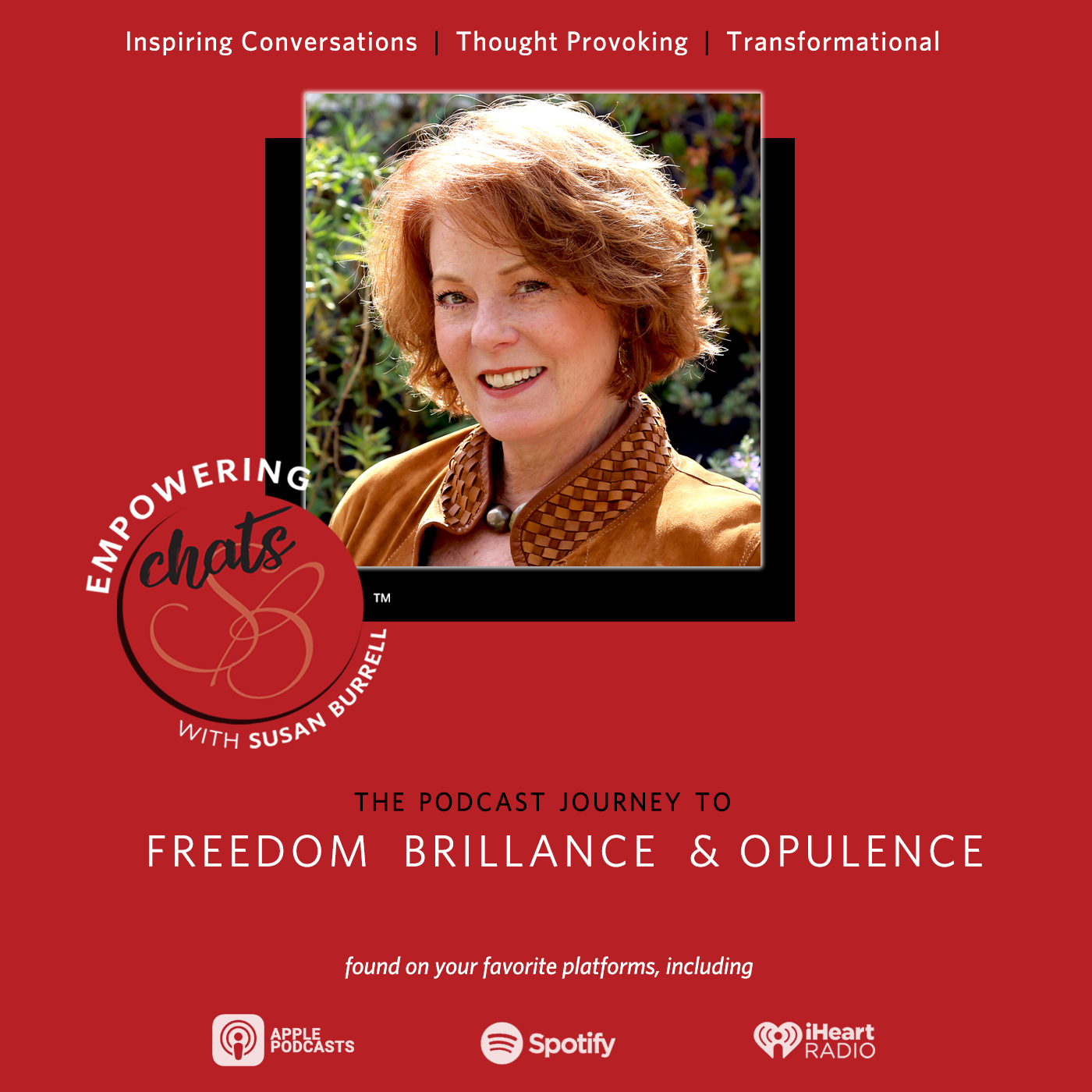 Join Susan and gather some empowering life skills to find your inner freedom, radiate your personal brilliance and live a rich and opulent life. Susan helps strong, capable women who have pockets of self doubt, access their inner wisdom and clarify their Truths. Susan's personal journey of removing energetic blocks within herself, tearing down barriers to personal success and happiness and building an inner foundation of love and courage, informs every conversation.Having come from a background in television and broadcast radio, Susan brings thought provoking guests to her show, asking the question of "How do you live an empowered life filled with freedom and happiness?" The conversations are always rich, peppered with guided meditations, mantras and the how-tos of living a mindful life. To learn more about Susan check out her website: SusanBurrell.com
Episodes
Friday Nov 25, 2022
Friday Nov 25, 2022
Ep #210 - Look Inside & Ask Questions. An Interview with author Catherine Shainberg
In this Empowering Chat I welcome author, Catherine Shainberg. Her latest book, The Kabbalah of Light dives into the fabric of the world of dreaming. Catherine describes the Kabbalah as a means to receive. She says it is a vast subject. She intentionally teaches the original Kabbalah which is about the inner gazing. According to Catherine it is available to all people to access.
She states that it begins by asking questions. When questions are asked of the subconscious answers are revealed. Generally, the subconscious will respond in images and sensations allowing for the feelings in the body to become awake. She helps her students learn what these images mean.
In the processing of doing this practice, Catherine believes individuals can "hear" and learn from their inner voice.
She talks about how we are like vessels and if we can open ourselves up the light will flow through us – but it has to be triggered and many times it is triggered at night by our dreams – the answers can come through when we are aligned. When we ask, we can be shown a direction.
Nightmares can also guide us and generally show up when something is out of alignment and not working correctly in our lives. It can be extremely valuable to take the time to investigate to "see" what it is we are supposed to know. It is about learning about how to tap into the sub-conscious.
Catherine goes on to say, as Einstein said, we are both matter and light. And through the tool of breathing we can release, open up, and receive the divine. And if we can get back to light, we can heal ourselves.
Catherine runs a school called, The School of Images that she founded in 1982. Today it is a New York-based institute and global network of study centers that guides students to use the power of dream images and imagination for transformational purposes. The school is grounded in the ancient Kabbalah of Light, and integrates ancient wisdom and teachings with modern Western knowledge and techniques to catalyze creative manifestation at all levels and areas of life.
To learn more about Catherine and The School of Images or to purchase her book please visit her website: TheSchoolOfImages.org
To learn more about how I show up in the world please visit my website at: SusanBurrell.com