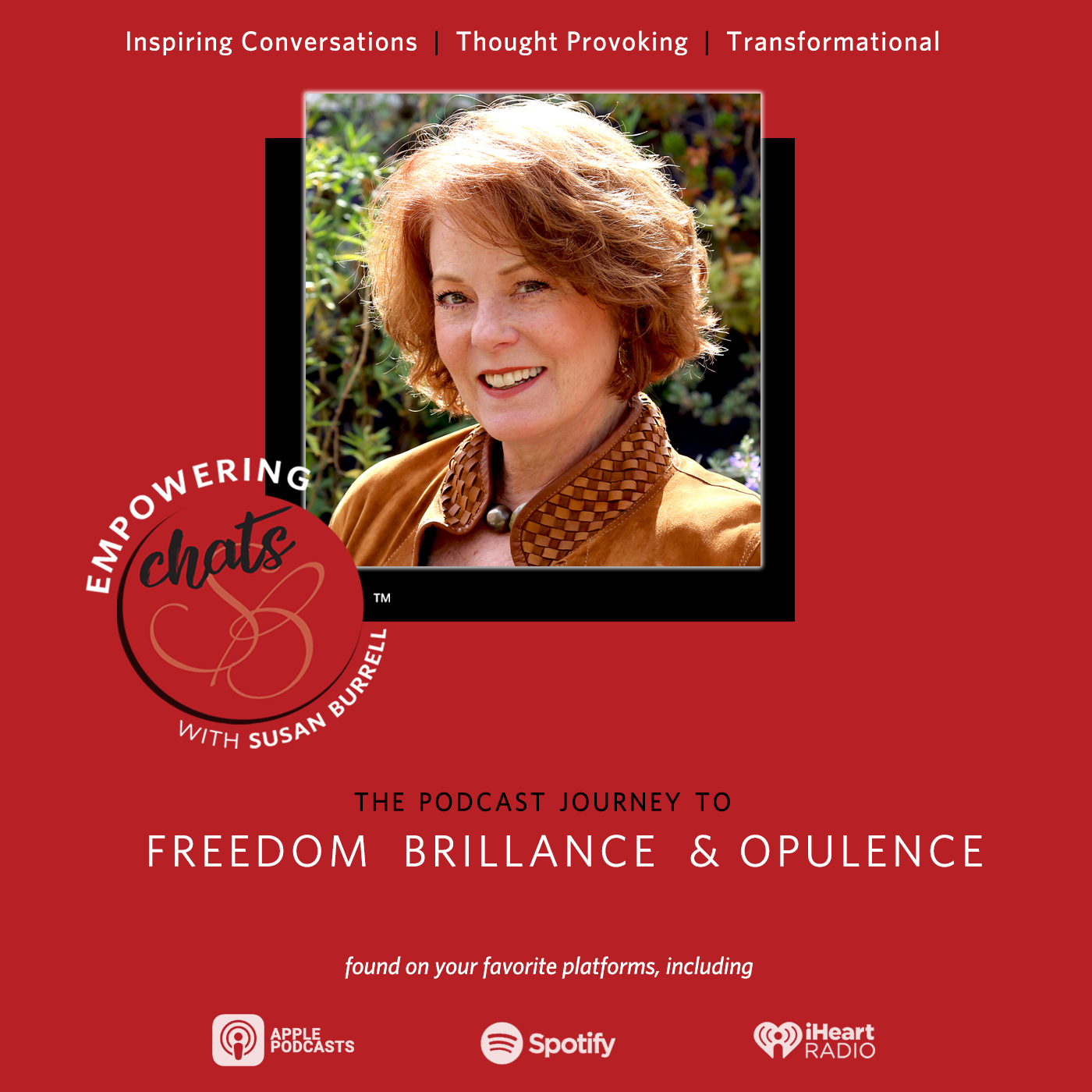 Join Susan and gather some empowering life skills to find your inner freedom, radiate your personal brilliance and live a rich and opulent life. Susan helps strong, capable women who have pockets of self doubt, access their inner wisdom and clarify their Truths. Susan's personal journey of removing energetic blocks within herself, tearing down barriers to personal success and happiness and building an inner foundation of love and courage, informs every conversation.Having come from a background in television and broadcast radio, Susan brings thought provoking guests to her show, asking the question of "How do you live an empowered life filled with freedom and happiness?" The conversations are always rich, peppered with guided meditations, mantras and the how-tos of living a mindful life. To learn more about Susan check out her website: SusanBurrell.com
Episodes
Friday Dec 03, 2021
Friday Dec 03, 2021
Ep #167 - Jason Morgan is my guest for this episode of Empowering Chats.  This will be my only show for the month of December. As I close out the year of 2021, I strongly encourage you to listen to the words of this very special man and his story or courage, hope and inspiration.
Jason is a Military Veteran and Author of the book, A Dog Called Hope.
In June of 1999, Jason Morgan was deployed to South America on a counter narcotics mission. His life was changed forever in the remote area of Ecuador when during an altercation with drug traffickers, his driver lost control of their SUV causing it to launch off the road into a steep ravine. Jason was ejected from the car and suffered a crushed spine. He was left for dead, drowning with his face submerged in swampy water, but then a miracle occurred. An American missionary working on radio towers in the area came upon the scene and saved Jason's life.
Two months later Jason awoke from a coma with no immediate recollection of what had happened. He was told by doctors it was a miracle he had survived. However, as a result of his extensive injuries he was also told he would never walk again.
Jason is a paraplegic, and the non-profit organization Canine Companions for Independence (CCI) was a life-saver for him. With their help he was paired with a service dog to assist him in living an independent life. His first canine companion service dog, Napal, is the one featured in his book, A Dog Called Hope.
Napal changed his life and gave him hope. And because of this life-changing experienc and the special bond he had with Napal, Jason's life was forever changed.
Jason has since developed a special creed to offer hope to others who have been tragically injured: "I've tried to live my life by offering hope and renewed strength to those who have suffered a tragic injury or disability. Life may not be better or worse, but it will be different and I want to show them by example that you can live a productive life. And a life of purpose no matter what condition you're in. You need to focus on your ability, not your disability."
Jason lost his father, Mike Morgan on Thanksgiving Day and is asking my listeners to consider a donation to Canine Companions in his name. To make a donation please go to this link and click on the DONATE NOW button. www.cci.org 
To learn more about Jason Morgan visit his website: ssgtjasonmorgan.com
To order his book, A Dog Called Hope visit: barnesandnoble.com
To learn more about A Dog Called Hope visit: a-dog-called-hope-my-book
To listen to past podcasts and learn more about what I do please visit my website: .susanburrell.com