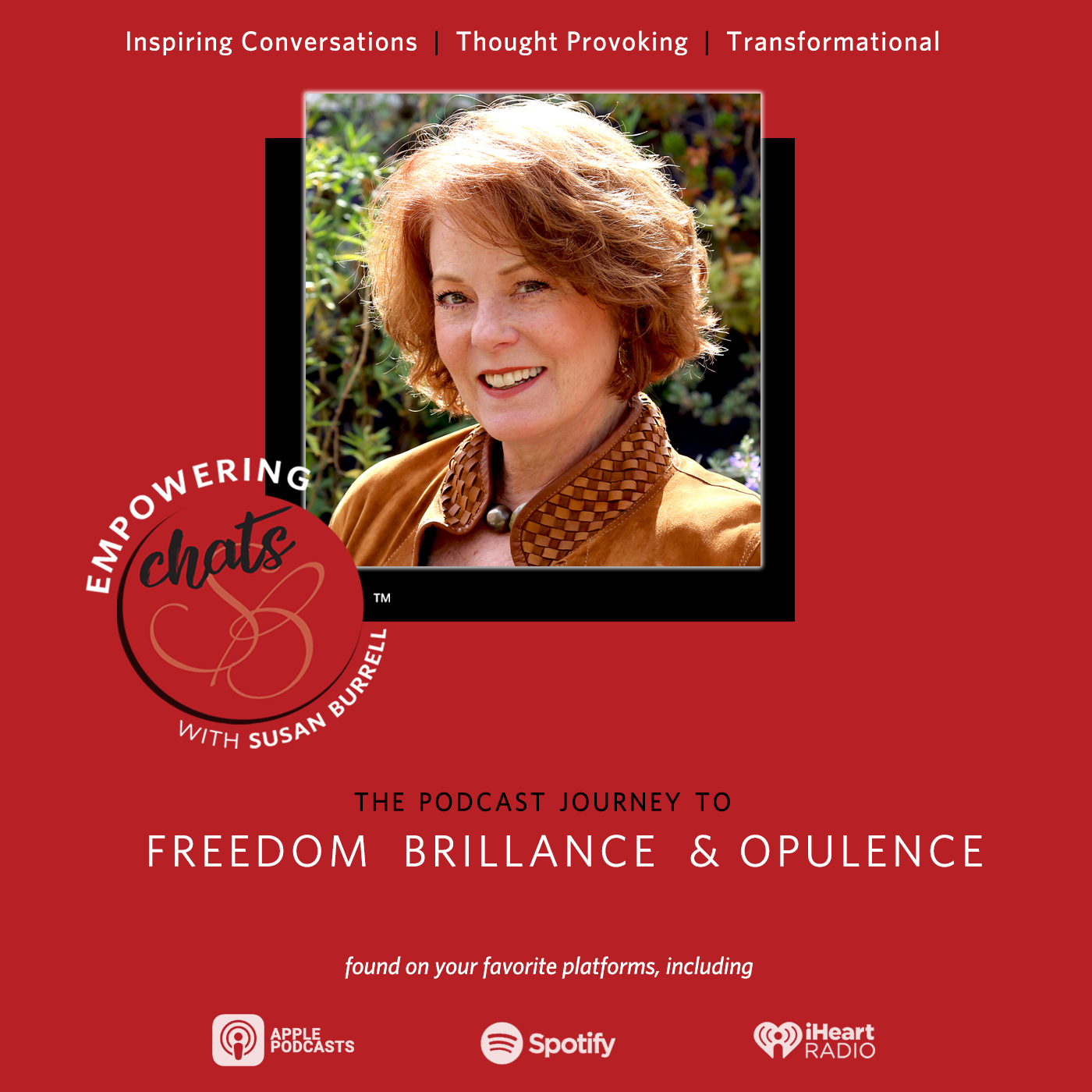 Join Susan and gather some empowering life skills to find your inner freedom, radiate your personal brilliance and live a rich and opulent life. Susan helps strong, capable women who have pockets of self doubt, access their inner wisdom and clarify their Truths. Susan's personal journey of removing energetic blocks within herself, tearing down barriers to personal success and happiness and building an inner foundation of love and courage, informs every conversation.Having come from a background in television and broadcast radio, Susan brings thought provoking guests to her show, asking the question of "How do you live an empowered life filled with freedom and happiness?" The conversations are always rich, peppered with guided meditations, mantras and the how-tos of living a mindful life. To learn more about Susan check out her website: SusanBurrell.com
Episodes
Saturday May 28, 2022
Saturday May 28, 2022
Ep #187 - Changing Lives, An Interview with Activist and Entrepreneur, Dawn Manske.
My guest for this Empowering Chat is an incredible individual who is fighting human trafficking with style. I am honored to welcome Dawn Manske, CEO of Made For Freedom to my show. Her story of courage and innovation is awe-inspiring.  You may need Kleenex by your side as you listen to her journey of how her innovative social company came to be. Made For Freedom, uses fashion to empower victims of sex trafficking and other marginalized situations.
The 10 years Dawn spent in China teaching English helped her to understand the unbalance produced by the devaluation of the girl child. This was her first exposure to poverty levels she had never seen before. In 2007 she viewed a documentary about sex trafficking that deeply affected her. She desperately wanted to see this horror and injustice come to an end but she had no idea what could be done from her hometown of St. Louis, Missouri.
And this is where the pants come in. Dawn shares her story of how her dream to help rescue and restore girls being victimized started with a pair of pants. Made For Freedom arose as the number of compliments she received from complete strangers about her super-comfortable fisherman pants, (purchased in Thailand) soared. It was stories like these and others that compelled Dawn to make the following pledge, "If there is any way I can help girls like this by selling pants, I will sell pants."
That pledge marked the beginning of Made for Freedom, and Dawn hasn't looked back since. Her journey and deep dive into business strategy and product development, has brought her in contact with people in St. Louis and around the world who are fighting for survivors. She has built a team of brilliant people who cheerfully lend their abundant and diverse skills to Made For Freedom. She partners with centers that are located in the United States and abroad to sell products made by the survivors of human trafficking. It is a win-win situation. The women and girls are given dignified employment with skills that empower them to walk away from their former life and create a beautiful new life with a purpose.
Together, with her partners, they are all committed to doing everything in their power to help women around the world know that we are all Made for Freedom.
To learn more about Made For Freedom and to purchase their products visit: MadeForFreedom.com
To learn more about Dawn Manske visit: MadeForFreedom.com/our-story
To learn more about me and how I show up in the world please visit my website: SusanBurrell.com