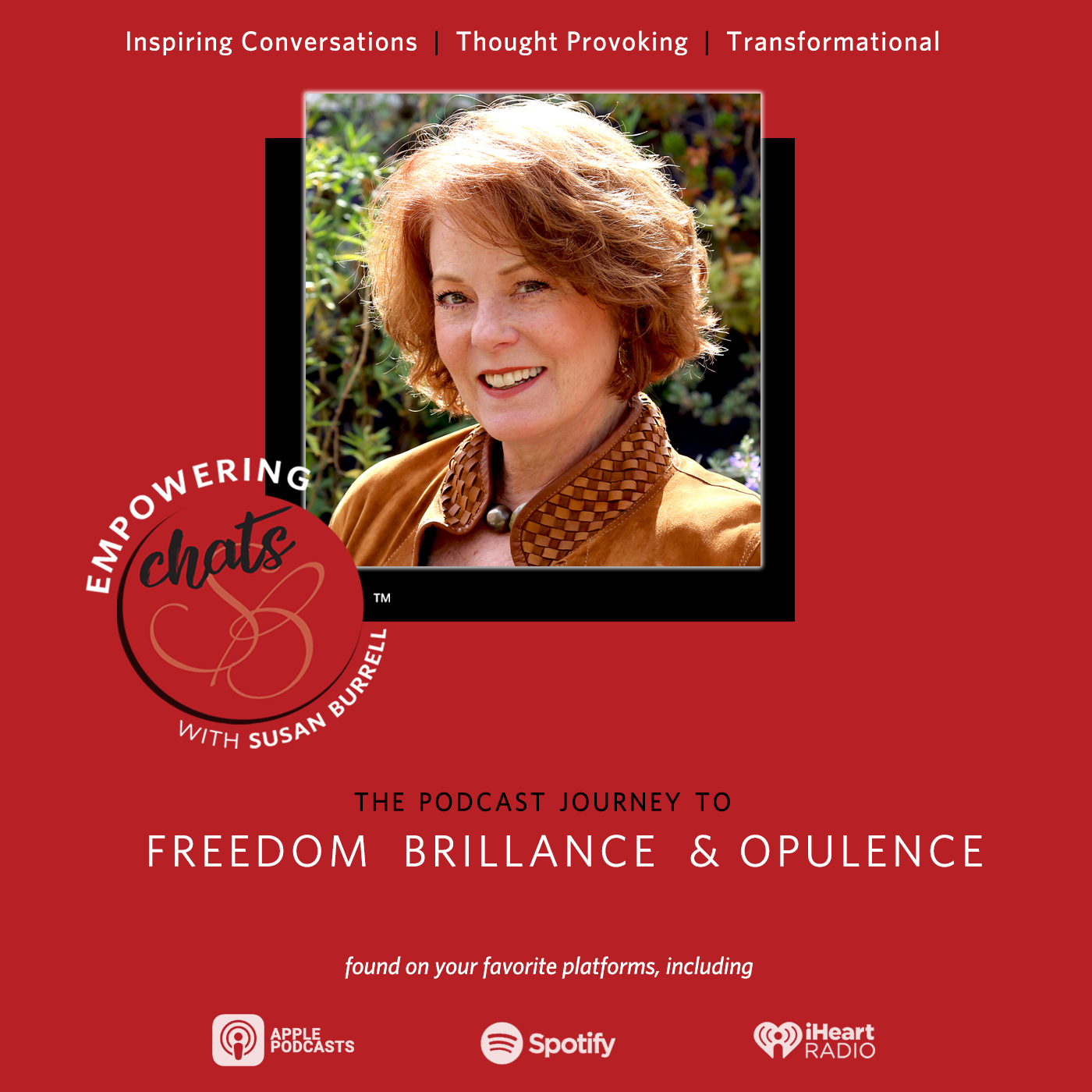 Join Susan and gather some empowering life skills to find your inner freedom, radiate your personal brilliance and live a rich and opulent life. Susan helps strong, capable women who have pockets of self doubt, access their inner wisdom and clarify their Truths. Susan's personal journey of removing energetic blocks within herself, tearing down barriers to personal success and happiness and building an inner foundation of love and courage, informs every conversation.Having come from a background in television and broadcast radio, Susan brings thought provoking guests to her show, asking the question of "How do you live an empowered life filled with freedom and happiness?" The conversations are always rich, peppered with guided meditations, mantras and the how-tos of living a mindful life. To learn more about Susan check out her website: SusanBurrell.com
Episodes
Saturday Nov 19, 2022
Saturday Nov 19, 2022
Ep #209 - Creating Communities of Change - An Interview with Ame-Lia Tamburrini host of the Circle of Change Podcast and Founder of Hum Consulting.
I am honored to welcome Ame-Lia Tamburrini to Empowering Chats. She is a spark of light. We met a few months ago when I was on her podcast, Circle of Change.
Circles are a big thing for me and I found out for Ame-Lia as well. I believe circles represent all the people in the world who want to connect and are connecting. Ame-Lia's podcast is appropriately named, Circle of Change and she is all about connecting with kindness.
The circle concept is very important to Ame-Lia. During this conversation she shared about the many decades she spent sitting in community all across the world listening to stories. And many of those conversations took place in circle settings. And what she noticed is that sitting in a circle listening to stories Is different from sitting in rows and listening to someone tell a story from a podium.  The energy is powered differently. Ame-Lia feels, as do I, that stories shared in circle root us to each other and to our ancestral roots.
Ame-Lia resonates with this concept and actively applies it to the work she does. In her podcast she works to create the essence of circle by taking the principles of kindness to remind her listeners that we all are interconnected and we all have wisdom. Ame-Lia and I both agree that the principles of kindness and love is what is needed now to heal our world.
Now is the time for that change.
And it all begins with awareness. Awareness to shift from a place of negativity to one of love and kindness. And Ame-Lia begins by reminding people to get back in touch with their bodies to access that awareness.  It is easy to become negative or detached from our surroundings when we become fearful. Ame-Lia encourages her listeners to pause and make a conscious effort to notice what is occurring in their bodies and then respond with kindness to themselves first and then being gentle with self. This is where it all begins.
The telling of story is powerful and gives the teller of the story the power to let go of what no longer serves and to take hold of what is working in their lives.
It is particularly powerful when those stories are shared in circle. It reminds us that we are not alone and we are all interconnected.
To learn more about Ame-Lia Tamburrini and Hum Consulting visit: HumConsulting.ca
To listen to Ame-Lia's Podcast Circle of Change visit: HumConsulting.ca/podcast
To learn more about how I show up in the world please visit my website at: SusanBurrell.com