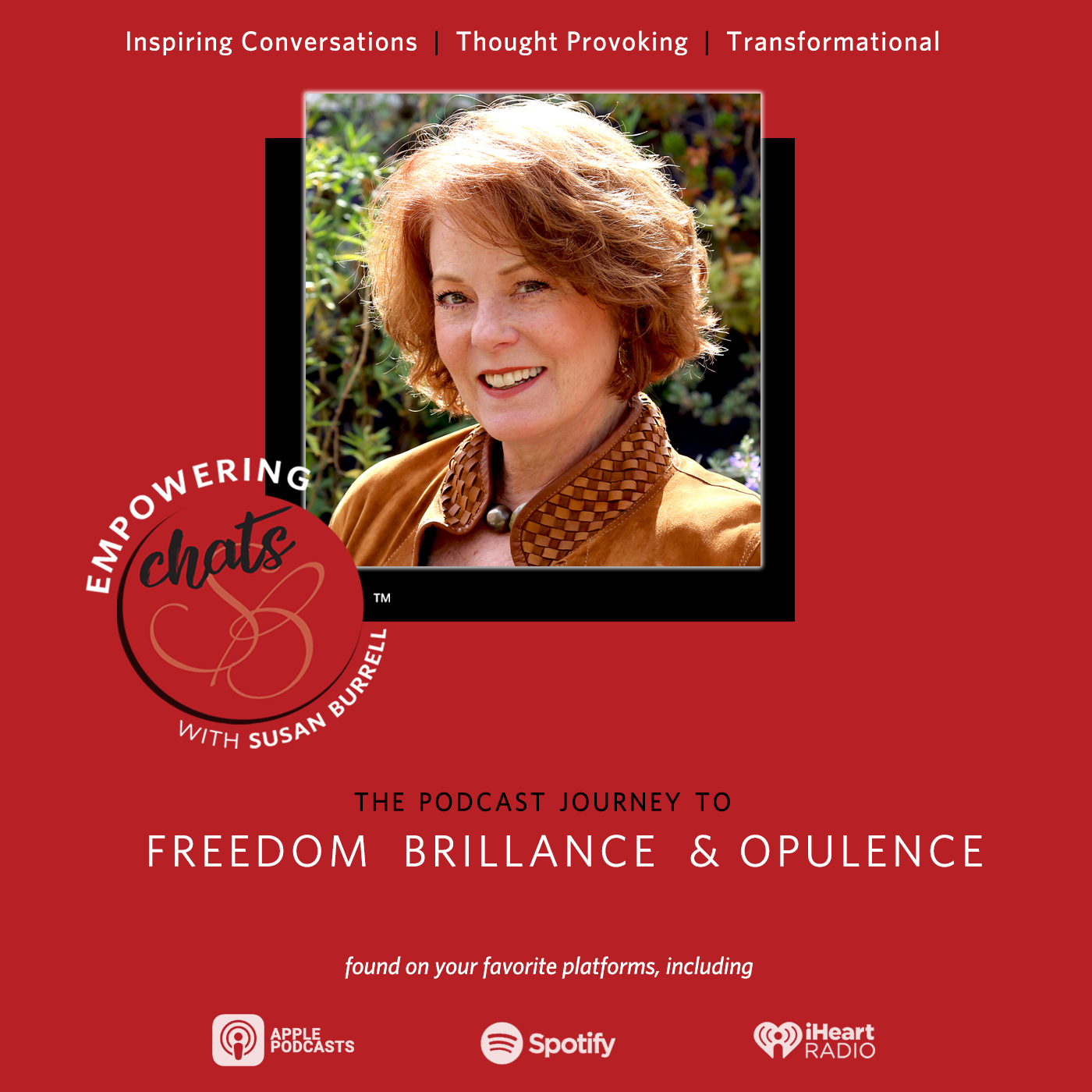 Join Susan and gather some empowering life skills to find your inner freedom, radiate your personal brilliance and live a rich and opulent life. Susan helps strong, capable women who have pockets of self doubt, access their inner wisdom and clarify their Truths. Susan's personal journey of removing energetic blocks within herself, tearing down barriers to personal success and happiness and building an inner foundation of love and courage, informs every conversation.Having come from a background in television and broadcast radio, Susan brings thought provoking guests to her show, asking the question of "How do you live an empowered life filled with freedom and happiness?" The conversations are always rich, peppered with guided meditations, mantras and the how-tos of living a mindful life. To learn more about Susan check out her website: SusanBurrell.com
Episodes
Friday Oct 14, 2022
Friday Oct 14, 2022
Ep # 205 - Are You Enough? An Interview with Author, Carrie Severson
The title of the book from my next guest grabbed me in such a way that I absolutely knew I had to have her on Empowering Chats with Susan Burrell. And so, with that I welcome Carrie Severson. She is the CEO of the hybrid book publishing company, Unapologetic Voice House and author of, Unapologetically Enough: Reshaping Success and Self-Love.
I started this chat by asking Carrie why she chose this title for her book. And from here Carrie shared her story of hating the word, "enough" – in fact hating it to the point of turning it into a 4-letter word and then banning it from her vocabulary. For many years Carrie felt like she was never enough. Never enough for herself, for her family, for her friends, etc., etc.
After she wrote this book and was contemplating a title, her editor suggested, "Unapologetically Enough." Carrie had a melt-down. She did not want this as her title and fought it. She still had a lot of negative reactions to the word "enough" and did not want this word to grace her book cover. Carrie said that after she had a good cry and accepted that perhaps this should be the title, she began to research the word, "enough." And what she found when she went to the dictionary was the word, "abundant," used in the definition to describe "enough." And so she came to realize how powerful and positive the word, "enough" was, and is.
In Carrie's words, she feels it fits women for where we are as a collective right now. I agreed with her expressing how so many are speaking up, standing up and saying enough. Both by saying, "I am enough" and "Enough! No more." It is showing up everywhere.
Carrie's journey both in life and in writing this book came first from a sense of fear that she wasn't enough. And she allowed her fear to lead the way in her life.
Her story takes a dramatic turn when she comes to the realization that she was always enough. And she takes fear out of the equation. Not that fear doesn't sometimes play a part in our lives. In Carrie's case she recognized that it took that initial fear to wake her up so she could see this was not the way to self-love. It took a lot of work and a lot of self-reflection.
I am personally so grateful for Carrie and others like her for being so brave and sharing their story. Many women, myself included, have walked this path and we know there are others like us whom we can learn from. This makes me not only grateful but immensely proud to join this circle of empowered women.
The real truth for women can and will surface as the old paradigm shifts from a patriarchal dominance to one that embraces the divine feminine and we all accept our own "enough-ness."
To purchase Carrie's book please visit:
amazon.com/Unapologetically-Enough-Reshaping-Success-Self-Love
To learn more about Carrie Severson please visit her website at: unapologeticallyenough.com
To learn more about how I show up in the world please visit my website at: susanburrell.com