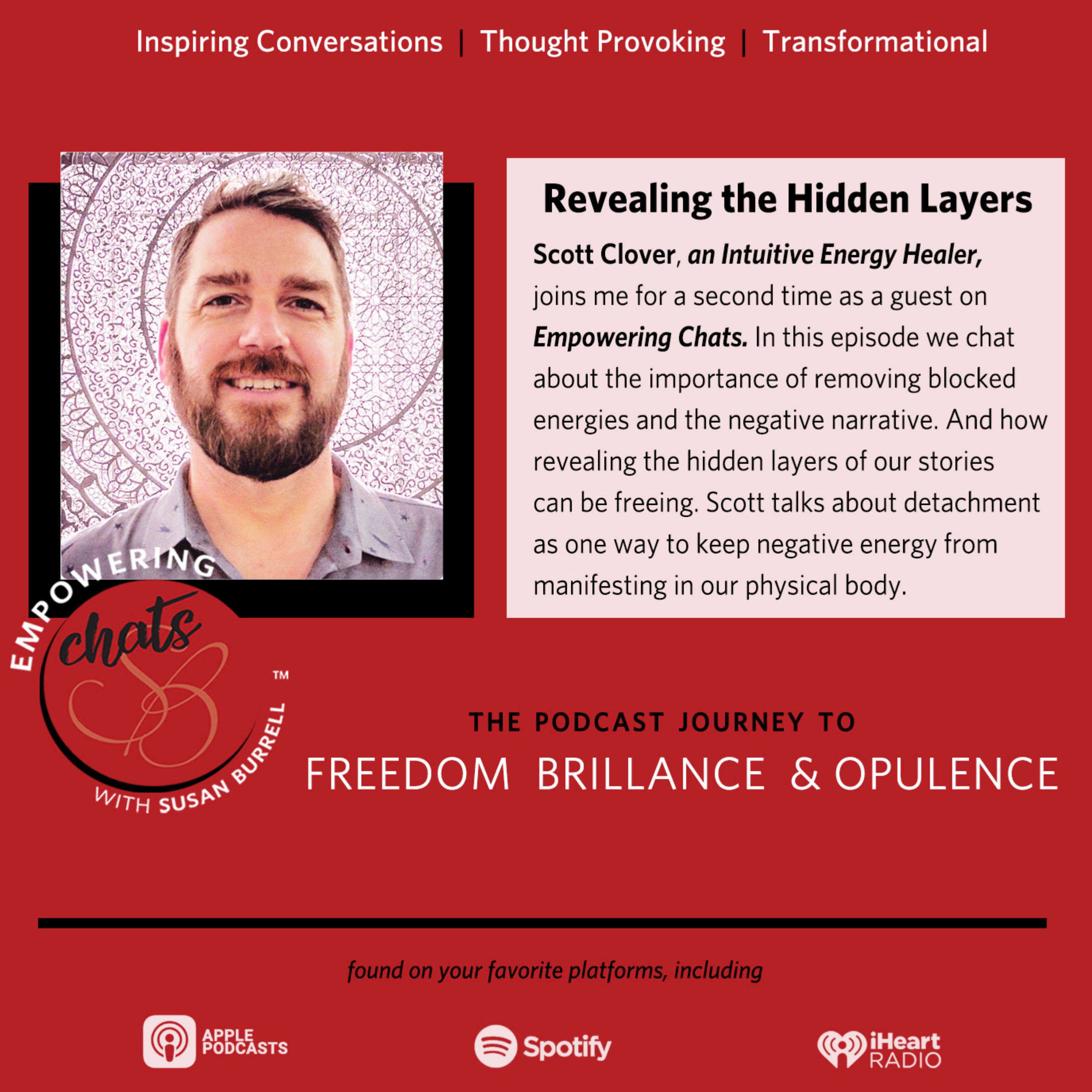 Ep. #186 - Revealing The Hidden Layers An interview with Intuitive Healer and Podcaster, Scott Clover
This is the second time I have interviewed Scott for Empowering Chats.  He and I made a deep connection when I first interviewed him last year and I have since tapped into his intuitive gifts and energy healing for myself. We have also become friends. And so, I am pleased to once again have him as my guest on Empowering Chats.
In this episode we take a look at the many layers of story that we all carry, sometimes to our own detriment. For many, me included, when we run that toxic story about our life or our family of origin it can take root in our body and show up in physical ailments.
And worse, when we placate the story to the point where we don't recognize it anymore is when the healing really needs to take place. Scott says observation is 55% of what is needed to heal. He helps his clients, like he has helped me, to see the pattern for what it is, so that the healing can begin. In Scott's observations when the stories get locked in the body over many years it can show up in the body as sickness or other physical challenges.
Scott uses his intuitive sense, which I like to call divine intelligence, to get to the root of what may be causing his client's challenges. He always aims to start at the root to heal the "issues" showing up because if you can't get at the root and tackle it from that vantage point then the "problems" will continue to show up. It's all about revealing the hidden layers and exposing them to the light. Those roots must rise to the surface in order for the healing to begin, and in Scott's experience it is much easier to yank out the root rather than just respond to the topical symptoms or issues.
Scott also emphasizes the importance of giving back to yourself and replenishing yourself in order to stay healthy. Over giving will eventually catch up with you and may show up in your physical body as sickness.
Scott is not only a friend but has also become an important part of my journey in uncovering the toxic stories and releasing that which no longer serves me. He really is a gifted healer and I am so grateful for his gifts, both personally and for the greater good he does in the world.
If you are interest in learning more about Scott Clover please visit his website at: ScottClover.com
You can find his podcast on all the major platforms and on his website at: ScottClover.com/podcast
Please visit my website to learn more about how I show up in the world: SusanBurrell.com