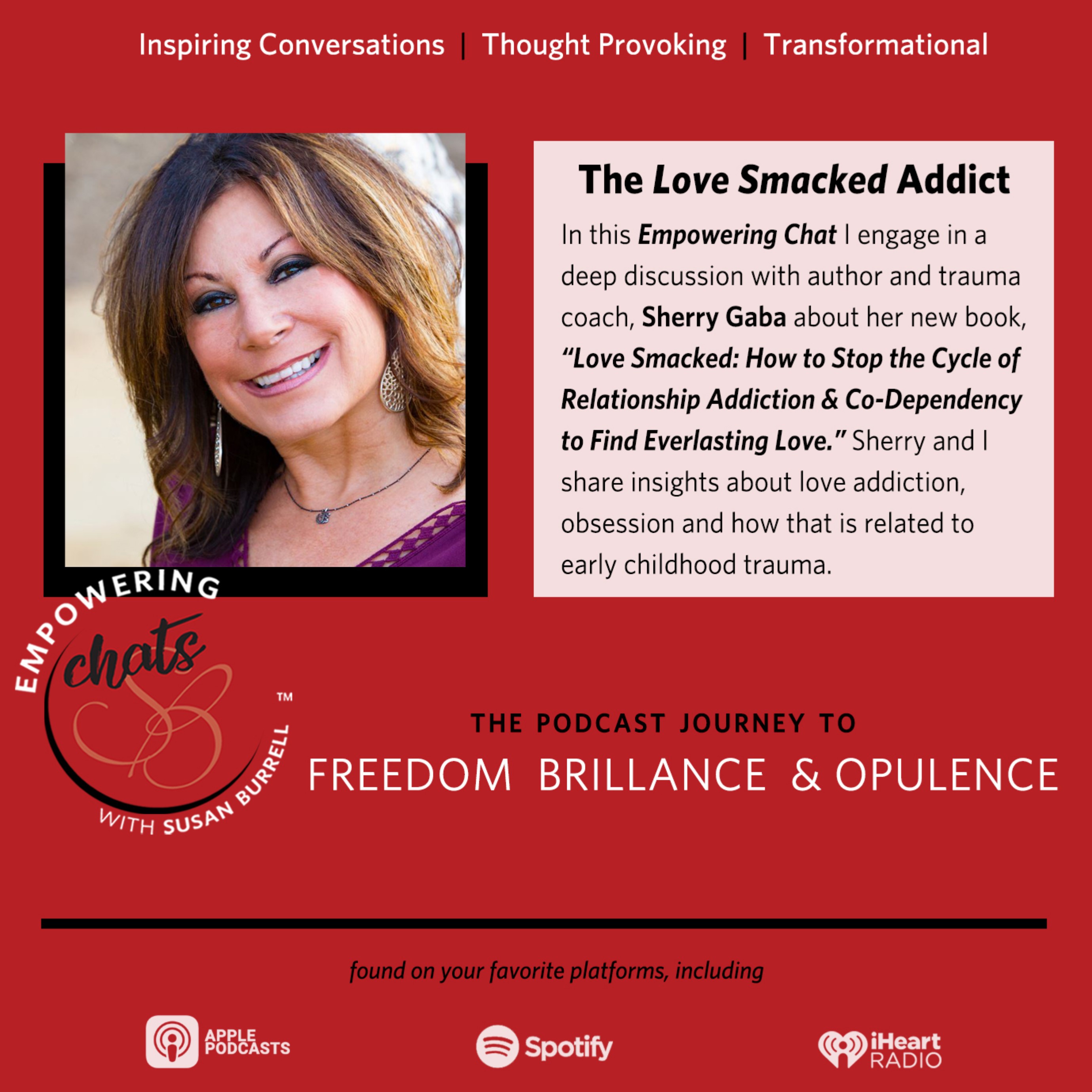 Ep #181 - The Love Smacked Addict – An Interview with Trauma Coach and Author, Sherry Gaba.
Anyway you slice it and dice it, no matter if you call it Love Addiction, Relationship Addiction, Obsessive Love or Romance Addiction, it all comes down to unhealthy practices in the name of love.
My guest for this episode of Empowering Chats, is Author and Trauma Coach, Sherry Gaba. Her book, "Love Smacked: How to Stop the Cycle of Relationship Addiction and Co-Dependency to Find Everlasting Love," focuses on insecure attachments and what obsessive love looks like. Often times people who feel alone or who were abandoned as children will seek validation from others and become addicted to being in relationship.
Sherry experienced this first hand in her life and knows the importance of having self-love and a strong sense of self before entering into a love relationship.
Sherry explains that many times (although not always), the obsession and addiction to another is an attempt by that person to recover the love and attention that may have been missing in their life as a child. That person grows up with a warped sense of self and often times doesn't have self-love or a strong sense of who they are. Without the nurturing, you can develop low self-esteem.
Her book focuses on how to break that cycle of dependency and addiction so that you can live fabulously on your own or with a life partner. She offers tools in her book that give her readers ways to recognize good partners and steer clear of bad ones, and how to define healthy boundaries.
Ultimately giving to yourself and finding ways to feel comfortable in your own skin is the key to healing.
To learn more about Sherry, visit her website at: SherryGaba.com
Sherry is offering an online group coaching program she calls, "Wake-Up Recovery," to help her clients overcome their love addiction issues by applying principles of positive psychology and mindfulness.  She is offering my listeners a one-month trial to her coaching program for only $1.00.  To take advantage of this offer please follow this link: wakeuprecovery.com/become-a-member-co1/
Please visit my website to learn more about how I show up in the world: SusanBurrell.com