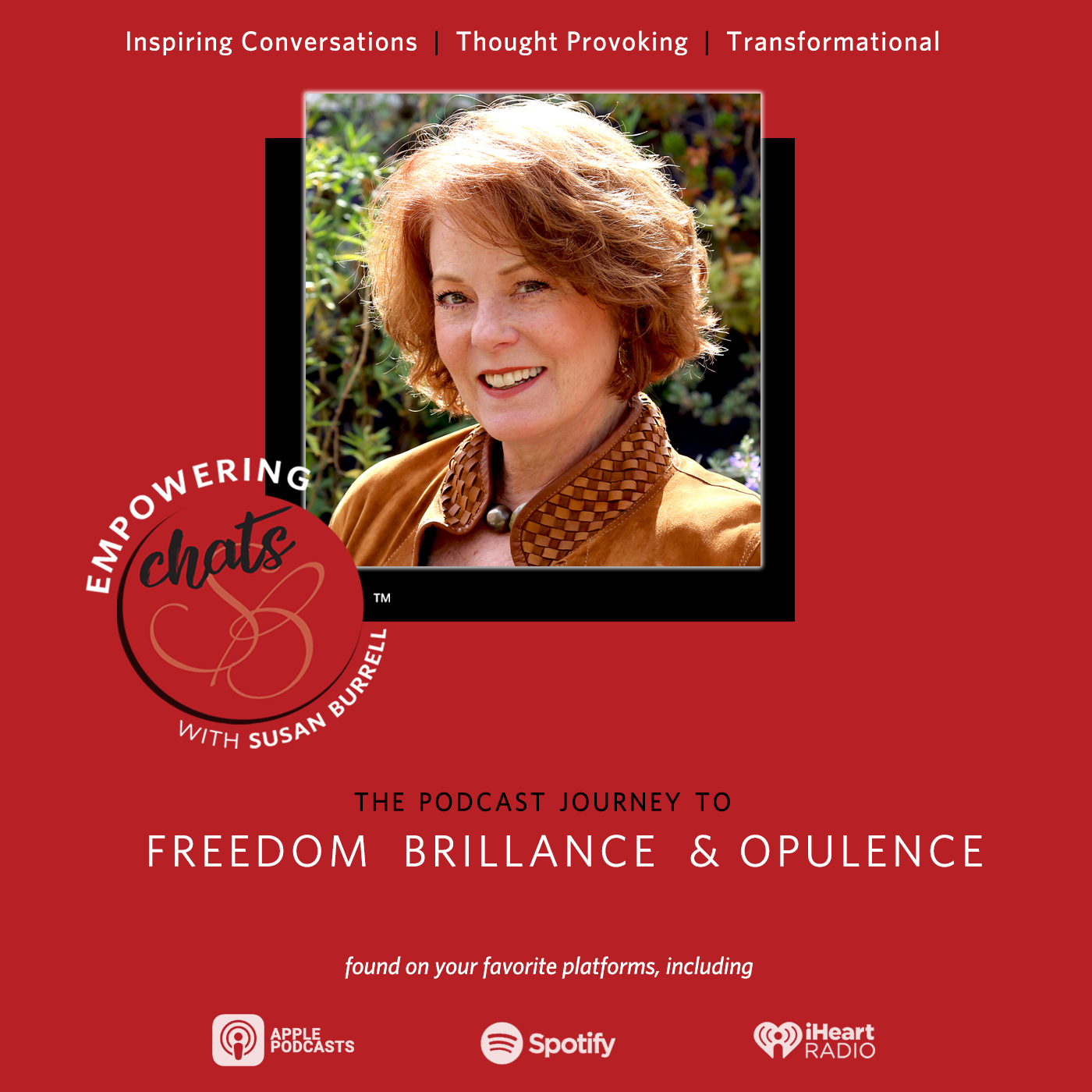 Join Susan and gather some empowering life skills to find your inner freedom, radiate your personal brilliance and live a rich and opulent life. Susan helps strong, capable women who have pockets of self doubt, access their inner wisdom and clarify their Truths. Susan's personal journey of removing energetic blocks within herself, tearing down barriers to personal success and happiness and building an inner foundation of love and courage, informs every conversation.Having come from a background in television and broadcast radio, Susan brings thought provoking guests to her show, asking the question of "How do you live an empowered life filled with freedom and happiness?" The conversations are always rich, peppered with guided meditations, mantras and the how-tos of living a mindful life. To learn more about Susan check out her website: SusanBurrell.com
Episodes
Friday Jan 27, 2023
Friday Jan 27, 2023
Ep #214 - Unified Understanding – An Interview with author and cosmologist, Dr. Jude Currivan
My guest for this episode of Empowering Chats is with Dr. Jude Currivan. Jude wears many hats and has a very impressive list of accomplishments. Including a Masters in Physics and a PhD in Archaeology.
She is also a cosmologist and an author. Her latest book The Story of Gaia, The Big Breath and the Evolutionary Journey of Our Conscious Plant explores how the Universe, our planet (Gaia), ourselves and everything in existence has inherent meaning and evolutionary purpose.
Jude shares in great detail why she went with the phrase "Big Breath" instead of "Big Bang."  According to Jude the "Big Breath" took place some 13.8 billion years ago, and it was not a "Big Bang,"  it began at its tiniest state.  Bang, for most people means, chaos or a very loud noise. Whereas Jude explains the earth began with incredible order and was a very fine-tuned event. Jude goes on to express that she felt "Big Breath" on many levels describes the reality of an on-going big breath where space is expanded. Our universe, she says, has existed and evolved through this big breath.
It reflects the ancient wisdom of the out-breath or Prana (the Indian word for breath) and on many levels we now know we have the evidence to support the wisdom teaching perspective.
Jude goes on to explain that "The Story of Gaia," is a book that shows the beautiful expression of the life of Gaia, of Earth. It's an encouraging story of love and it's not a scary story. This one is an expansive story about growth and evolution for the planet and for our souls.
And that's the reality of what we have. Jude goes on to say that we've been taught a world view of the Universe that is without meaning or purpose and one of separation. And we now have evidence that expands beyond that to a Universe that is a living, thriving, conscious universe that has an innate meaning. And all of us are connected and therefore we are being invited to wake-up and see how we are all connected.
The joy for Jude as a cosmologist is there is now evidence that Unity is our existential foundation and it is a reality.
To learn more about Dr. Jude Currivan please visit: JudeCurrivan.com/
To purchase her book, The Story of Gaia visit: amazon.com/Story-Gaia-Evolutionary-Journey-Conscious
To learn more about  me and how I show up in the world please visit my website: SusanBurrell.com