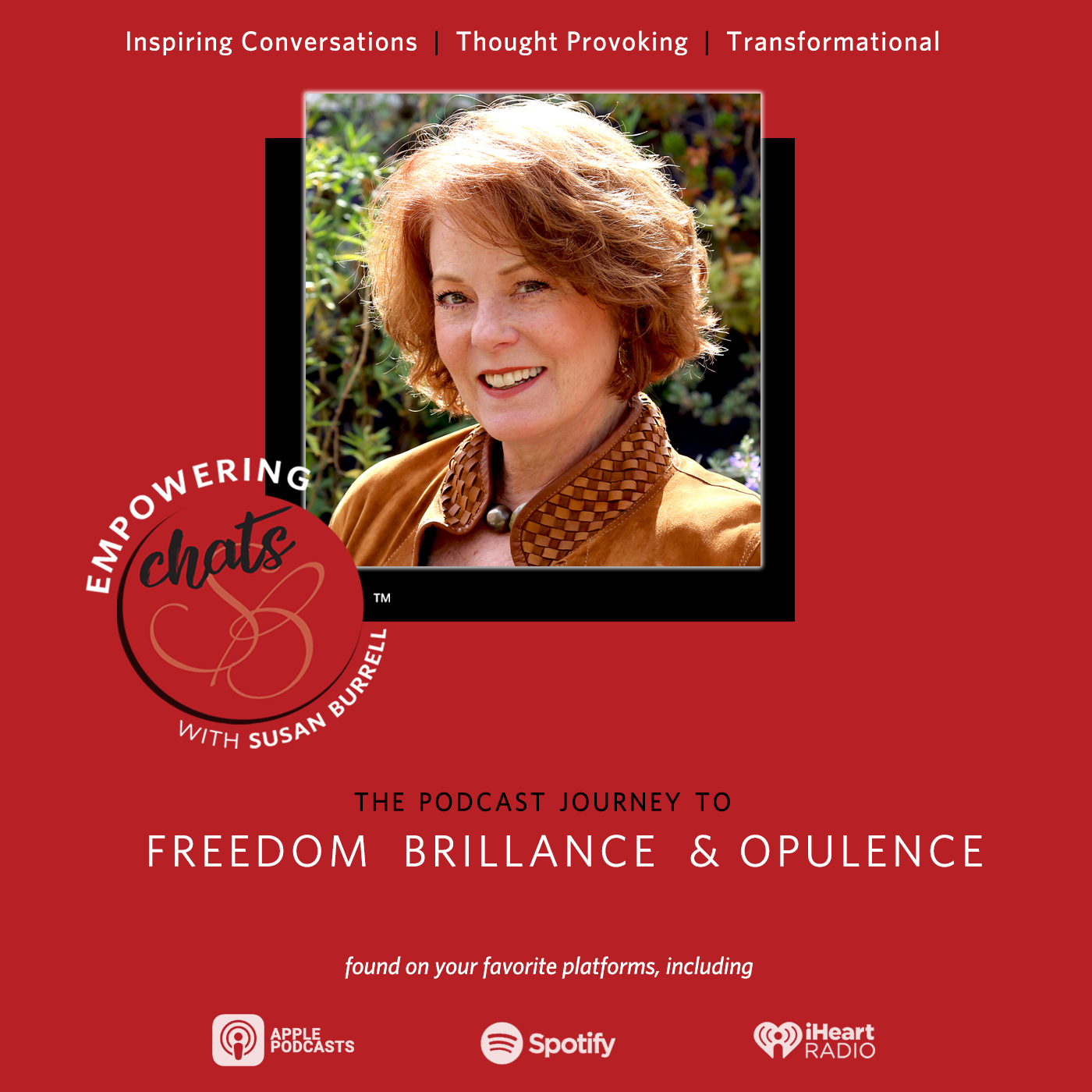 Join Susan and gather some empowering life skills to find your inner freedom, radiate your personal brilliance and live a rich and opulent life. Susan helps strong, capable women who have pockets of self doubt, access their inner wisdom and clarify their Truths. Susan's personal journey of removing energetic blocks within herself, tearing down barriers to personal success and happiness and building an inner foundation of love and courage, informs every conversation.Having come from a background in television and broadcast radio, Susan brings thought provoking guests to her show, asking the question of "How do you live an empowered life filled with freedom and happiness?" The conversations are always rich, peppered with guided meditations, mantras and the how-tos of living a mindful life. To learn more about Susan check out her website: SusanBurrell.com
Episodes
Friday May 12, 2023
Friday May 12, 2023
EP# 228 - Wild & Free - An Interview with Author, Kris Franken
I am so excited to welcome my stellar guest, Kris Franken. She is an author, mentor and healer. Her latest book is entitled, Wildhearted Purpose. Embrace Your Unique Calling and the Unmapped Path of Authenticity.
Chapter one of her book opens with the following quote:  
"It is in our nature as humans to seek happiness and pleasure in our lives. When this is healthy and balanced these inner states are clear indicators that we're connected to our truth, but without meaning we lose our balance and sense of purpose, as you initiate your vision, meaning will bring depth into the picture as pleasure brings elevation."
According to Kris, balance and meaning bringing us into our truth. This is a powerful statement and a theme that flows throughout Kris's book, Wildhearted Purpose.
The idea for this book and its title came to Kris years ago. When it first appeared for her she found it glowing bright and it spoke to her. So much so that years later it became the title for this book.
The title, in Kris's words says so much. She finds that it's connected to the heart and it expresses everything about what she does. When she began mentoring people she encouraged people to go into their own wilderness and discover their wildness.
She gave herself permission to be wild and messy.
For Kris "wild-ing" is living in the wildness of nature. It's finding the balance. Often, she feels we take the word "meaning" as feeling too strong and dark . Kris feels it is really about finding love and playfulness, and balancing the giving and the receiving. It's tricky but doable to find your "meaning" in your life.
The book was written as a permission slip to everyone to do exactly what your heart wants to do. And that was her intention in writing this book.
As a rebel, Kris does not follow a map. She resists structure and people or society telling her what she "should" do. And in her quest for balance, she found her wild and playful side and follows her own drumbeat. And thus encourages her readers, her audience to do the same.
To learn more about Kris Franken please visit her website at: KrisFranken.com
To explore her book, Wildhearted Purpose visit: KrisFranken.com/books
To learn more about how I show up in the world visit: SusanBurrell.com