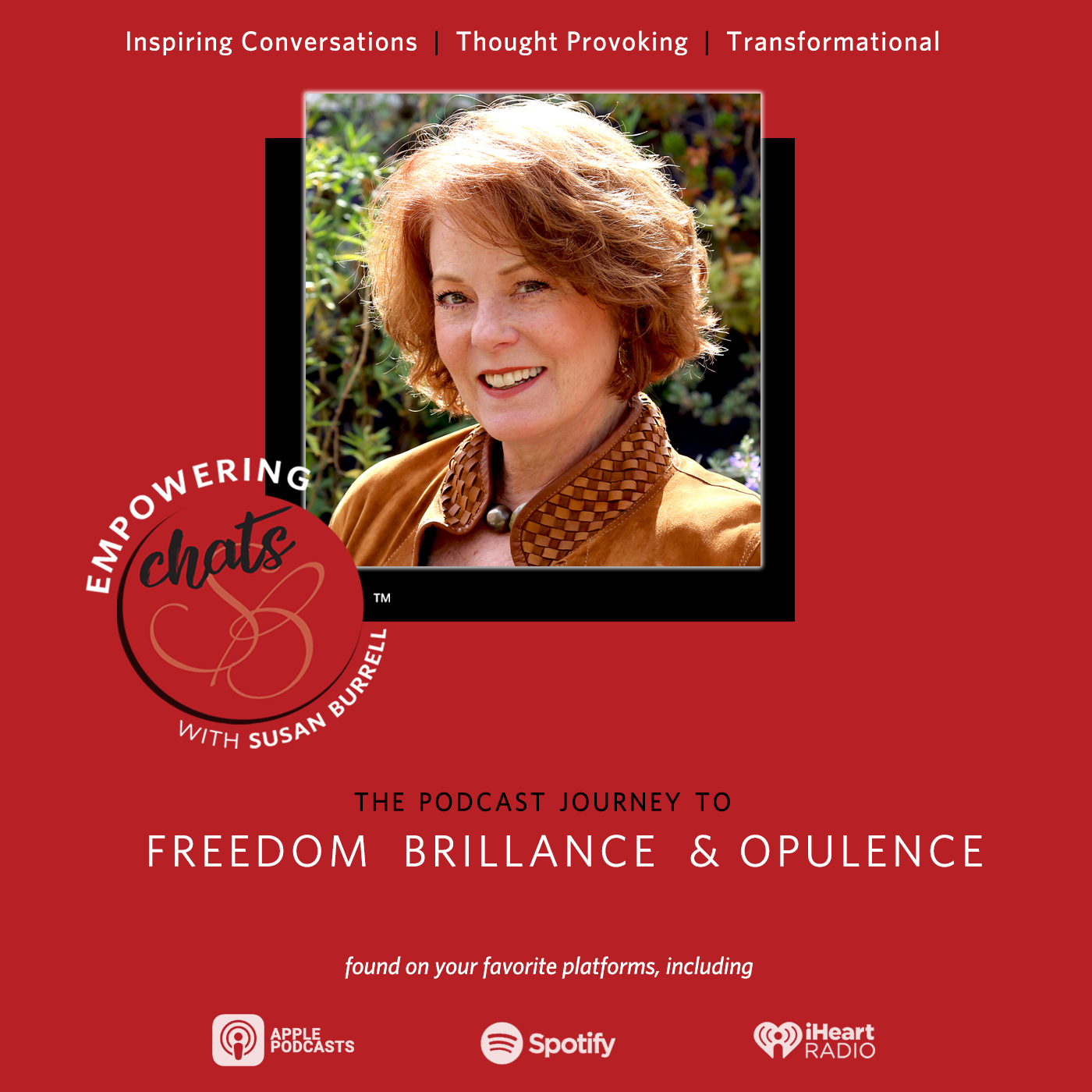 Join Susan and gather some empowering life skills to find your inner freedom, radiate your personal brilliance and live a rich and opulent life. Susan helps strong, capable women who have pockets of self doubt, access their inner wisdom and clarify their Truths. Susan's personal journey of removing energetic blocks within herself, tearing down barriers to personal success and happiness and building an inner foundation of love and courage, informs every conversation.Having come from a background in television and broadcast radio, Susan brings thought provoking guests to her show, asking the question of "How do you live an empowered life filled with freedom and happiness?" The conversations are always rich, peppered with guided meditations, mantras and the how-tos of living a mindful life. To learn more about Susan check out her website: SusanBurrell.com
Episodes
Monday Dec 05, 2022
Monday Dec 05, 2022
Ep # 211 - The Season of Gratitude - A Solo Show with Susan Burrell
It's been an amazing year. As I reflect back on 2022 I am reminded about our theme for this year of reemergence. And I gotta say I have personally been on a journey of reemergence and rediscovery. And we have all collectively reemerged back into life. And so now I ask you to think about how that felt? To reemerge into your life? To reengage with friends, family members and with yourself? What changed as you reemerged?
For me personally old lessons and belief systems showed up. These belief systems had to be transmuted or destroyed in order for me to reemerge into this new way of living. A way of living that I think we are all in the midst of exploring.
When I started Empowering Chats a few years ago I made a commitment to dedicating the month of December to what me and my team call "The Month of Giving."  I am a big proponent of giving to non-profits. There are some I give to monthly and others that I give to annually. I highly recommend that if you choose to give, know that your giving not only supports these non-profits and the amazing work they do, it also opens the avenue within you to receive more. As you give, I believe the law of circulation goes into effect. And here is how I believe it works: As you give out, you empty out and you open up to receive more – and the more open you are the more you can receive.
This has been my life experience – and it's not just about letting go but about giving from your heart.
And so as we enter this month of giving and gratitude. I am going to list out those non-profits that me and my Team support. I encourage to visit their websites and see what they are all about. 
There are 8 non-profits listed below along with their website. Some of these you may have heard of and at least one is local to our hometown area of Ventura County. 
This first one is Planned Parenthood.  I personally have been involved in supporting them for a very long time. After Roe v. Wade got over- turned, they have been under attack. And I wish to do away with the myth that all Planned Parenthood does is perform abortions. That simply is not true. They provide education to teens and adults about how to have safe sex, what to do if you think you have a sexually transmitted disease and all the facts you need to know regarding sexual health. But that's not all, they also provide information on birth control, health and wellness, screening for cancer, adoption services, the list goes on. They have a wealth of information and resources to help people of all walks of life to get answers and find support.  I give to Planned Parenthood annually. To learn more please visit: plannedparenthood.org
Another non-profit that I support is the International Rescue Committee or IRC. I give to them monthly.  The IRC responds to the world's worst humanitarian crises, such as the conflict in Ukraine and the crisis in Afghanistan. They help to restore health, safety, education and economic well-being to the people who have been devastated by conflict and disaster. And they are proud to also support a world where women and girls have an equal chance to succeed. I was turned on to this organization from a close friend who has been supporting them for more than 10 years. This organization works to make sure the money you donate goes directly to the people and the communities that need it the most. Please visit their website to learn more: Rescue.org
The next one I want to mention is called Canine Companions. They are a national organization that enhances the lives of people with disabilities by providing highly trained service dogs at no charge to the recipient. And they also have a huge program to support veterans. I learned about them last year when I interviewed Jason Morgan – who was one of the first veterans to receive support after he became paralyzed from the waist down during a narcotics mission in 1999 with the US and other Ecuadorian military units. If you have not listened to that show I encourage you to follow the link and take a listen now. Jason has been a spokesperson for Canine Companions for many years now and I highly recommend you check them out. They help individuals to live a better life and also help with PTSD. To listen to the interview I did in 2021 with jason Morgan please visit: EmpoweringChatsWithSusanBurrell.podbean.com/e/jason-morgan/
To learn more about Canine Companions visit: Canine.org
Akita Angels is another non-profit my Team supports. This organization rescues Akita dogs and other large breed dogs that have been abandoned. Akita Angels is dedicated to saving the lives of these large breed dominant and/or high-risk dogs by providing unlimited, no-cost support in the areas of education, intervention, advocacy, and rescue. For animal lovers this organization is one that truly lives up to its mission statement. Please visit their website to learn more: AkitaAngels.org
Next on the list is the World Wildlife Organization. Many of you may have heard of them. However you may not know that they do so much more than what appears on their name. Besides working to save endangered wildlife they also do work to save our fragile environment and educate the world about protecting our ecosystems. Their mission statement reads as follows: World Wildlife Fund carefully manages resources to maximize your support of our work—saving endangered wildlife, protecting fragile ecosystems, tackling the climate crisis, and finding practical and beneficial ways for both people and nature to thrive. Please visit their website to learn more: WorldWildLife.org
And now I move onto the International OCD Foundation. This is an organization that supports people with OCD - which stands for Obsessive Compulsive Disorder. This organization provides resources, support and education for those that suffer from this disorder which can be emotionally debilitating. Someone with OCD lives their lives constantly wanting to organize or set up their environment in unrealistic ways that can be a drain on their well-being and that of their families. To learn more please visit: iocdf.org
And now onto Nate's Place. This is a local non-profit that started here in Ventura County. It is named after Nathan (Nate) Rhoades who was killed at the young age of 21 in a terrible car accident. After having beat drug addiction at the young age of 14 Nate dedicated his life to wellness and living a drug free life. At the time of his death his parents donated Nate's organs so others so they could live. And they started Nate's Place, A Wellness and Recovery Center. They offer aftercare services for clients who have recently been discharged from residential treatment, intensive outpatient treatment, and/or for individuals who are looking to support their recovery and mental health with healthy recreational activities and peer support. To learn more please visit their website: NatesPlaceWellnessCenter.org
And finally the last organization I will mention here is Made for Freedom. I interviewed the founder of this organization earlier this year, her name is Dawn Manske and what she does is work with survivors of exploitation. Her organization is not considered a non-profit because she actually helps survivors to carve out a living for themselves by selling their products on her website. The products sold go directly to supporting the survivors that have been resuced from a life of marginalization or abuse. 
To listen to the Empowering Chat I had with Dawn please go to: EmpoweringChatsWithSusanBurrell.podbean.com/DawnManske
To learn more about Made for Freedom please visit: MadeForFreedom.com